Costa Rica Missions Trip 2019 | Update #1
July 2, 2019
Phil Atkins
Hola from Palmares Costa Rica!
Yesterday we traveled and things went extremely well. Everyone and everything arrived safely, except for one suitcase that suffered a severe leg injury in transit.
Rayner Rojas from La Vina Palmares and some of his team and family picked us up at the airport. They provided each of us with some snacks which were greatly appreciated.
We are staying in a house where La Vina church members assembled bunk beds and provided bedding for us. It lacks some of the things that many of us are accustomed to. For example, there is hot water(barely) in one of the showers and cold water in the other. As we would find out later when visiting a member of the La Vina family, we are...well spoiled.
We woke up this morning to a beautiful mountain view. We had everything we needed for a successful day: Jesus and coffee. Having Kathy Smarrella along didn't hurt either. Props to our fearless leader!
We started our day with 1/2 of our team helping with vacation bible school and the other 1/2 helping with a construction project to double the size of their babies and toddlers classrooms.
We also visited the park where we will be painting walls and a mural later in the week.
The highlight of the day (at least for me) occurred at the house of a La Vina church member, Yvette and her 11-year-old daughter. First, we toured her home (all 200 sq ft of it). Despite what we would consider extreme hardship, Yvette and Joselyn exemplify the joy of the Lord. Their smiles are contagious! They have lived at this location for the last 7 years without a bathroom or a sink. That is about to change as we will be helping to build a bathroom and install a sink in their home.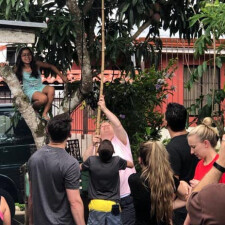 On a lighter note, Kathy learned to "hunt" Mangos. They didn't have a chance once she had a weapon in her hand!
It only took one day for us to figure out that Costa Rica is a beautiful place with beautiful people! We are blessed to be here.