Costa Rica Missions Trip 2019 | Update #3
July 4, 2019 | Taylor Herndon
Hola amigos!
Day three in Costa Rica was a BEAUTIFUL day. The sun was shining all day long and we didn't waste a minute of it! Our team has loved working together to impact the Palmares community.
First of all...the food here is incredible. We are eating well and may gain weight despite all the hard work we are putting in! Today after lunch, our gracious host Rayner made our entire team Frappuccino's in the church cafe. They were so good and we are grateful for such a hospitable host.
Today was the last day of Vacation Bible School. The kids learned about different events in Jesus' life and then the kids acted out the story of Jesus walking on the water! The kids have been a huge blessing to us and we have enjoyed building relationships with them (despite the language barrier). We are sad that VBS is over and are glad we were able to hang out with them for 3 days!
Our team also spent the day painting a beautiful mural at a local neighborhood park. This is a huge project that will be completed with the help of the entire team and many awesome volunteers from the church. This mural was a blank canvas to start and is really coming together. We are excited to reveal it to the neighborhood at the block party on Saturday.
Phil and Mike have been instrumental in the Babies Building Renovation. They are working closely with a team from Costa Rica and they seem to be building great relationships with them. This team is extremely hard working and knows how to get the job done. We can't wait to see the finished project!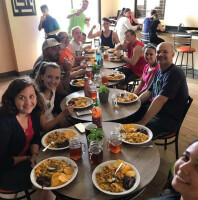 Please continue to keep us in your prayers. Today many of us are suffering from "patchwork quilt" sunburns (as Kathy would say) so you could be praying for sun protection and continue to pray for no rain! God is doing great things this week in the people we are serving and in our team. God has made significant changes in us and has impacted each of us in a powerful way. We will cherish these memories and will continue to do our best to bless the people of Palmares while we are here!