Costa Rica Missions Trip 2019 | Update #4
July 5, 2019
Mike Brandys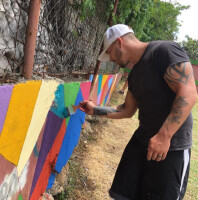 Buenas Dias from Palmares, Costa Rica.
On day 4, it's amazing how our team has come together; every sunrise seems to refresh our spirits and renew our energy for the day ahead. We are always on time and ready to give our best to Palmares.
The day started with a trip to the local bakery, where we tentatively taste the different cultural recipes. Today, there were some simple cinnamon rolls and some very hard donut like rings surrounded by a red icing that made it appear to be spicy; however as luck would have it, they were sweet and a delightful treat in the morning.
Rayner, our local liaison, came to transport us to the La Vina Palmares Church where we greet our construction friends working on the babies expansion before having a delicious and thoughtfully prepared meal. We discuss our hopes for the day and where we would like to serve here in Costa Rica.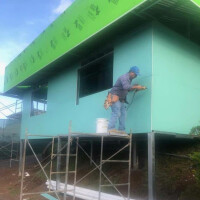 Phil and I opted to stay and help with the expansion of the babies area. Over the few days, we've been able to form a friendship with the four Ticas (we learned this is what people from Costa Rica call themselves) that work primarily on renovating the building. The building is coming together nicely with the six of us working side by side, and is now down to finishing touches like drywall, and where to put electrical outlets. Gustavo, the boss of the project, says it will be finished by Sunday.

Kathy led the rest of the team to the park where the mural is bringing more local families from the neighborhood to come and enjoy the updated surroundings. Painting is not as easy as it may sound as the sun over Costa Rica beats down on the team the whole time. Working in the valley where the bird majestically flies is no easy task; simply making your way down could be a disaster if you're not sure footed.
Regardless, Stephanie and Rayner worked together to draw out some of the gorgeous details of the dove. And the rest of the team made the colors more vivid by going over the carefully drawn out details with black paint.
By now you may have wondered if painting in the park is even safe, rest assured that the team knows how to do it right, and Kathy lovingly had us all take a break and treated us to some local ice cream where the heat in our bodies evaporated with every bite.
The team went back to work on our respective projects for a couple more hours and eventually met for a satisfying supper where we share the details of our day and let ourselves begin to relax. We are blessed to have the opportunity to serve the Palmares community as we strengthen Christ's Kingdom here on Earth.